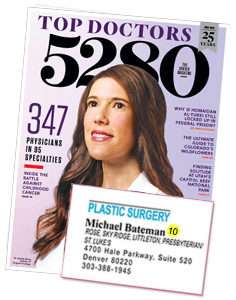 Cheers to Dr. Bateman for being a Top Plastic Surgeon in Denver again in 2023!
Dr. Bateman tops the list as one of the best Plastic & Reconstructive Surgeons in Denver for almost 2 decades! He has been awarded Denver's prestigious 5280 magazine Top Plastic Surgeon in Denver for 16 years, from 2008-2023!!
Dr. Bateman's current patients love spreading the word about his talents. They tell us they are so ecstatic after surgery, they can't help but show off their results to friends! It might be hard to research and select a Plastic Surgeon, but personal recommendations from friends and physicians are the best way to find your way to beautiful results from and kind and trusted surgeon.
Contact us to inquire about the wide range of surgeries and cosmetic procedures we provide and how to schedule a consultation.
Community News:
Join us in supporting local non-profits that directly support our wonderful patients. Polite Tumor is a local charity that provides grants to young women to help ease the financial burdens related to their breast cancer diagnosis and treatments. Visit PoliteTumor.com for more information about how you can help these amazing women!
We attended Living Beyond Breast Cancer's Reach & Raise Yoga with several of our inspiring team members and patients, and the event was such a success! The outpouring of community support for women, families and friends conquering breast cancer is a sight that warms the heart. Visit their website to learn more about how you can help give or receive assistance on this journey: LBBC.org